The race up in cheese land turned out pretty good,a mudd race for a while and glad I stuck it out.The race was up in the northern part of the Kettles and Cindy and I with Bob not far behind us was in for a wet but fun race.Cindy and I stoped in Millwalkie for some pancakes and coffee a little to close for race time for me but I needed to eat a good meal before the race and It was almost 10:00am with a 1:00pm start time.
After we set up camp close to start finish line I seen Charley Tri coming in from a lap and went to see how he was doing and the course conditions.He had taken a bad fall and was trying to mend himself and get back into the race but I think the rain that came later would make him decide to call it a day.
At the start of the race I went into the woods in about 11th place and I made some passes right before we went into the woods and glad I did because the next 7 miles was all singletrack.The course was rocky,bumby,rolling and fast and I thought I would make some good lap time until the rain hit half way into the 2nd lap.I could only drink when I came out to the pit area so it was drink half a bottle and take some Hammer gel in and keep rollimg.When the rain hit it I thought about doing a couple more laps then call it a day so I mudded up thr NRS composite pretty good then switched to the NRS 2.It was my 5 lap and when I took off on the NRS 2 the trails were getting pretty good shape and I just flew on the bike( I train on the NRS 2 and I just feel good when I'm on this bike)The trails were in that I could get in trouble condition,meaning they were getting fast but the slick spots would make you pay if you got to cocky.I payed a couple of times !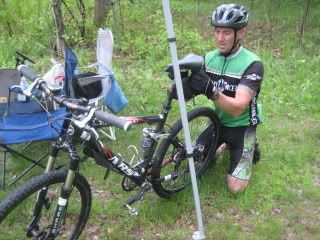 On the 6 lap John caught me as I stoped to get a drink while on the trail, I was trying to drink with the bottle in my mouth and still trying to ride so I just stoped.We rode together for more than half the lap and I told him I could make another lap if we hurry so we kicked it up and made one last pit on the run and I had around 55 min. to get one more lap.John had to put air in his tire but I couldn't wait so I kepted up my pace and ended up with my last lap coming in at 6:55.44 abd it was my 2nd fastest lap of the day.
It was a good race for me,6th place and with some strong laps for me a 6 hour XC race really ! John had a good race with 12 laps for his 12 hours of riding.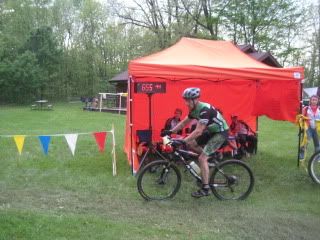 Heading to Ohio for the Mohican 100K my first point to point race !
Oh Yeah ! some new GX2 Ergon grips and a new BD2 back pack for the race !