I wanted to get a 2-1/2 to 3 hr ride in the woods today but I had a late start and the trail started to get sloppy,so a hour in the woods and 30 min. on the road.The road part was some hill intervals at the bottom of Marquette Heights road I jumped on the single speed( I brought two bikes)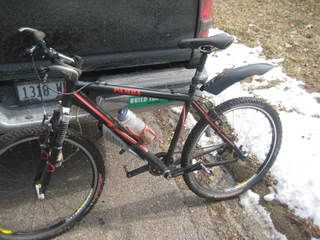 I did 4 rides up and back just to finish off the legs today,the woods at Indy were in good shape until the sun hit the trails and it doesn't take much even in 30 degree temps to start getting sloppy.
I broke out the Race bike today NRS composite
I had some lurkers keeping a eye on me !
Training is on sked for now I started my 7th week on the Simple Plan Workout the legs felt pretty good today,I hope to get a Run Bike Run in tomorrow, first race is less than four weeks away
http://www.midwestfattireseries.com/raceinfo/75-lost-valley2009
Middz and I hit the Dungeon last night, a good workout but we need to get outside !